Our products go beyond efficacy; we ensure that they have a positive impact on health & wellbeing without compromising the environment for future generations.

OUR SUSTAINABILITY MANIFESTO
At Childs Farm and Farmologie, everything we do is with the future of today's children at the forefront of our minds. Our ethics and values permeate everything that we produce; from ethically sourced suppliers and sustainably sourced naturally derived ingredients, to our 100% recycled ocean prevented plastic bottles and more, our promise to you is that we are not just kind to your skin, but kind to the planet, too.
SUSTAINABLY SOURCED INGREDIENTS
We are passionate about the planet and know the provenance of every single ingredient that we use. All our products are made with ethically sourced natural and naturally derived ingredients, and our team are constantly looking for better ingredient sources. We want to know who we are working with and the difference we are making to their lives and communities. You can find out more about our ingredients, the community stories and their source of origin on our ingredients page, and on each of our product pages.

VEGAN AND CRUELTY FREE
At Childs Farm we believe all cosmetics products should be cruelty free. That is why we are approved by Cruelty Free International and the Leaping Bunny Programme, the globally recognised gold standard for cruelty free cosmetics. We're also proud to say that our entire product range is vegetarian and wherever possible, all our products are supported by The Vegan Society to be suitable for Vegans; the exceptions are our strawberry & organic mint hair conditioner and grapefruit & tea tree hair detangler, that contain a honey derivative in the ingredients.
USE OF PCR
We're saving the planet one bottle at a time. Our Childs Farm plastic bottles, Farmologie tubes and Farmologie 75ml bottle contain between 30-100% PCR plastic (Post-Consumer-Recycled plastic) - so that's plastic that has already been recycled! We'd love to be able to use more PCR in our packaging, but as of right now, there's a limited supply of this – which means the more you recycle your plastics, the more recycled packaging we can make.

OUR FARMOLOGIE PUMP
Not all pumps are made equal! We bring you first certified fully recyclable metal free pump. Traditional pumps used within the cosmetic industry are usually made with different types of plastic polymers and a metal spring – this means that they aren't easy to recycle. We have sourced a pump made of a single polymer plastic with a plastic spring, meaning it is fully recyclable in UK waste streams. And, we're replacing our Childs Farm pumps later this year!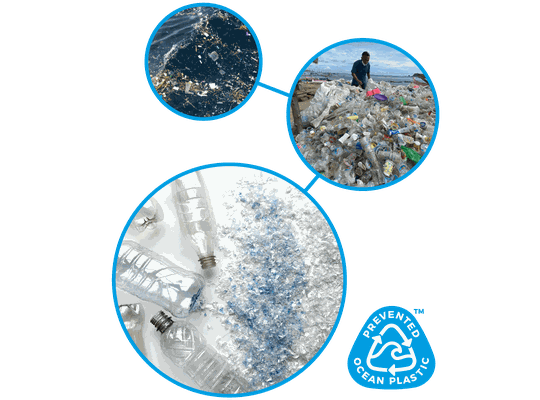 OCEAN BOUND PLASTIC
Our 250ml and 400ml Farmologie bottles are made 100% ocean-bound plastic - this is plastic collected from rivers and coastal areas that is likely to have otherwise ended up in the ocean. We are currently transitioning all our Childs Farm bottles to be made from 100% recycled ocean-bound plastic.

WHO WE WORK WITH
At Childs Farm we are proud to support Surfers Against Sewage to help end plastic pollution. Surfers Against Sewage are a marine conservation charity working with communities to protect oceans, waves, beaches and marine life. They fight long and hard to protect what we love and we won't stop until it's completely clean, safe and protected for everyone, forever.

We are also working alongside Prevented Ocean Plastic as one of their partner brands, solidifying our commitment to prevent ocean plastic as much as possible.

OUR CARBON FOOTPRINT
Childs Farm Ltd is a carbon assessed company. We actively work with Carbon Footprint to offset not only our own emissions, but to go above and beyond our measured footprint to provide greater environmental benefits, and we are thrilled to be certified as a Carbon Neutral Plus organisation. More information on the projects we are supporting can be found on the Carbon Footprint website.