Collection:

Moisturisers

Looking for the best moisturiser for dry skin? Our collection of soothing moisturisers are suitable for all all skin types, especially if your skin is dry, sensitive or eczema-prone. Use them as a body cream and a face moisturiser, so your little ones skin is nourished from head to toe. If you're looking for the best moisturiser for eczema or a body lotion for dry skin, then check out our range to see which one's best for your skin type.
The best moisturisers to nourish dry skin
All skin needs moisturising from newborns to grown ups. If you're looking for the best lotions to nourish dry skin, then look no further.
Our soothing emollient creams can be used as a body cream and face moisturiser so your little one can have baby soft skin from their pudgy cheeks to their tiny toes. We've chosen all of the best naturally derived ingredients and lovingly bottled them up to nourish delicate skin.
And, for your peace of mind, all our products are dermatologist and paediatrician approved. So you know they're suitable for all skin types including dry, sensitive and eczema-prone skin.
And if that wasn't enough, all of our lotions are suitable from newborn and upwards…Yes, that's right, you can have baby soft skin too.
Kind to skin & safe for the planet
While looking after the skin of little (and big!) tots out there, we want to make sure that we're caring for our planet too. Each of our bottles is made from prevented ocean plastic and both the bottle and pump are fully recyclable. Our gentle moisturisers have also been given the seal of approval from The Vegan Society and is approved as cruelty free through the Leaping Bunny Programme.
Childs Farm Moisturisers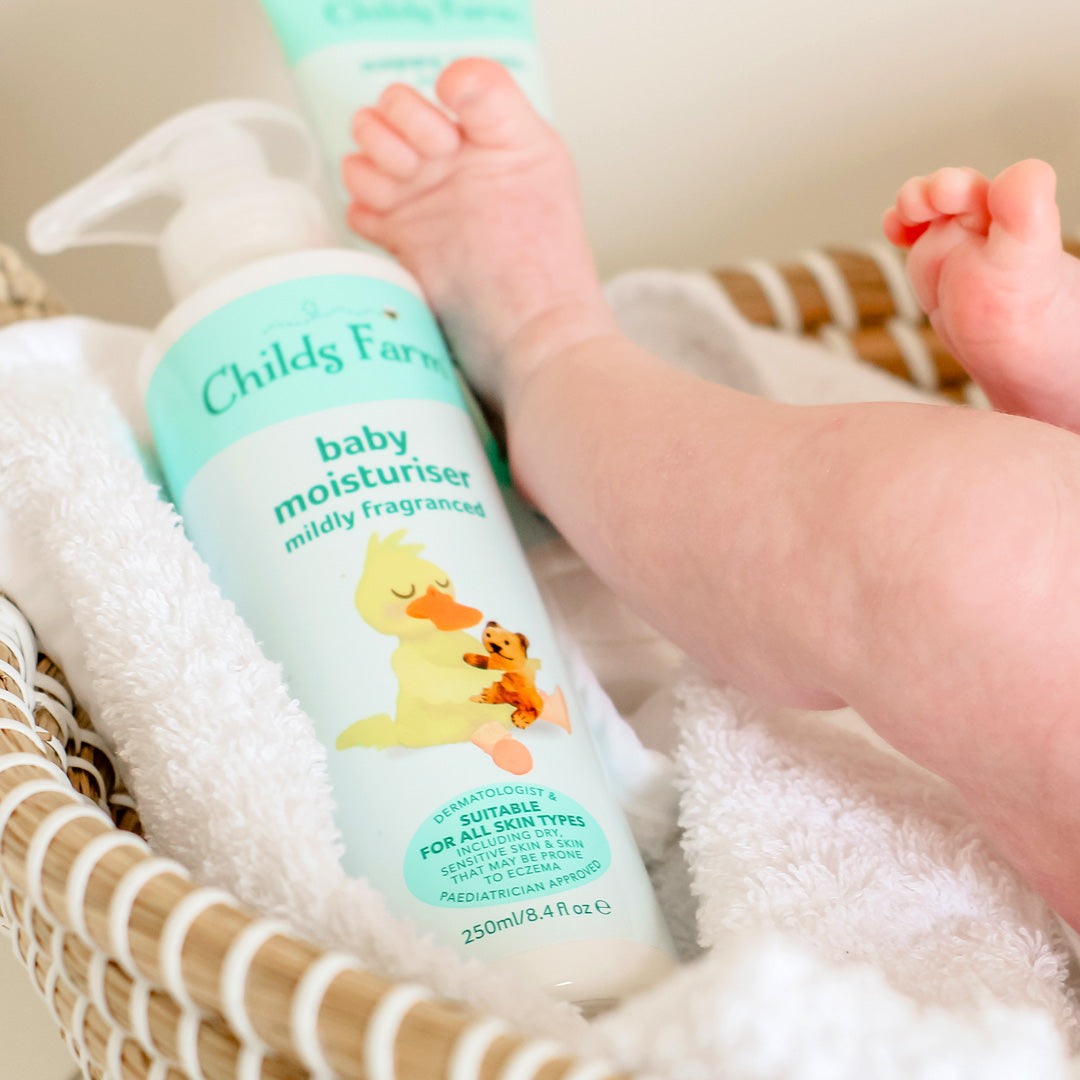 What does moisturiser do?

A good moisturiser will hydrate and nourish skin to leave it feeling soothed. A soothing lotion will also creates a barrier to protect the skin from the elements, such as chilly weather and dry air. Applying a nourishing moisturiser everyday will prevent you from developing skin issues such as dryness.
Does moisturising work?

Moisturising all skin types regularly is essential to keep skin nourished and hydrated, this is particularly important if your baby has dry or sensitive skin.

Applying a soothing emollient cream at least twice a day will create a barrier to keep delicate skin protected. When choosing a moisturiser, be sure to check out the ingredients on the back of the bottle - shea butter and colloidal oatmeal are great for leaving skin feeling smooth and hydrated. Happy skin = happy baby!
What's the difference between the baby moisturiser and the OatDerma moisturiser?

Great question. Our baby moisturiser has been created for all skin types, including sensitive little tots. The star ingredients shea and cocoa butter hydrate skin and leave it satin smooth and smelling good enough to eat.

Our OatDerma moisturiser has been created for people who suffer with particularly dry, itchy skin that may be prone to eczema. The star of the show in this bottle is colloidal oatmeal…also known as the superfood for the skin. This ingredient is rich in nourishment for particularly dry, itchy and sensitive skin.